On the plot
Vegetables
Keep an eye on local weather forecasts in case there is a late frost and ensure anything tender is covered up.
Check your seed packets to see what can be sown directly into the soil, such as French beans, carrots, sweetcorn, squash and pumpkins. these can follow on from anything already started in the greenhouse.
Continue sowing of salads, radishes, beetroots, carrots and peas every couple of weeks to ensure a continuous harvest rather than a glut of everything all at once.
If the weather is dry, water the seed drills before sowing and water daily to prevent the soil from drying out.
Keep banking up soil over emerging potato shoots, protecting from late frosts but also encouraging a larger yield.
All hardy veg plants raised under glass through spring can be hardened off and planted out this month.
Ensure climbing supports for peas are in place before growth really takes off this month. Supports can also be organised for runner beans and climbing beans ahead of planting in late May or early June.
Keep on top of weeds.


Fruit
Strawberries are insect-pollinated so make sure pollinators have access to your plants, whether in the greenhouse or outside under cover.
Cover soft fruit plants with netting to protect from birds, particularly cherry trees and currant bushes.
Watch out for signs of powdery mildew or disease on fruit trees and bushes, and treat with a fungicide.
Look out for less pests such as slugs, vine weevil and sawfly larvae.
In the greenhouse or polytunnel
Sow frost tender summer vegetables under glass at the start of May, ready to plant out in early/mid-June once conditions are right. Such as: French beans, climbing beans, runner beans, sweetcorn, pumpkins, squash, courgette, cucumbers.
Keep checking for the first signs of any pests or diseases as it's easier to get on top of the problem before it takes hold.
Start greenhouse watering - if we have some decently hot days seed tray compost dries out in a few hours, so it may be time to start almost daily watering.
Ventilate the greenhouse - open doors and windows each morning but close each evening.
Raise Humidity - With good ventilation it is safe to raise humidity around greenhouse plants, helping to keep them cool during the hottest part of the day. Prevent potted plants drying out during the day by setting them in trays lined with capillary matting.
Shading - Young plants growing under glass can quickly frazzle under direct summer sunshine. This can be prevented with shade paint or shade netting added to the south side of the greenhouse. Newspaper can also be used as a temporary fix.
Plant tagetes with your tomatoes, to act as companion flowers which deter pests.
Early sown tomatoes, chillies, peppers, cucumbers, melons etc. can all be planted into their final pots/growbags in the greenhouse.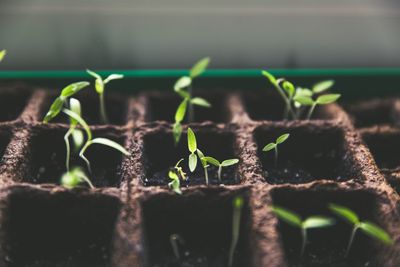 Things you could be harvesting
Brassicas: kale, cauliflower, late purple sprouting broccoli, spring cabbage
Roots: radishes, first carrots
Salad crops: salad leaves, pea tips
Edible Flowers: borage and marigolds
Leafy greens: chard and spinach
Legumes: broad beans (end of the month)
Herbs: parsley, chervil, coriander, rosemary, sage, bay, mint, tarragon, dill, oregano and basil (inside)
Fruit: cloched strawberries and rhubarb